Some children are born with anomalies (abnormalities) of ear (middle & inner). Mr. Hasnain Ali Jaber was one such individual born with an abnormality of the middle ear and external auditory canal.
In this patient's case, there was no external auditory canal, no tympanic membrane and a foul-smelling discharge came from a very narrow opening in the external auditory canal. The patient had hard of hearing, multiple musculoskeletal deformities, chest deformity, cardiac Anomaly and hypopigmented patch over his face. An Iraqi Doctor referred Hasnain to Dr. Rao's ENT.
The child was thoroughly examined and necessary investigations were done including CT scans and an extensive Cholesteatoma (abnormal, non-cancerous skin growth) was noticed in the middle ear which lead to foul smelling discharge from both the ears. He required surgical exploration of the ear. The boy also had multiple musculoskeletal and chest deformities, cardiac anomalies, suspicious of Langerhans cell histiocytosis. Owing to these medical conditions, it was challenging to give General Anaesthesia.
Using Vario Neuro Microscope and a Nerve Monitor, the patient's ear was operated. It can be extremely difficult when we do not know the route of entry into the middle ear, and there are no landmarks of external auditory canal guiding the surgeon.
In all probability, there are high chances that it could end up damaging the middle ear and the facial nerve and that is why very few ear surgeons in the world can take up such cases and operate.
Using advanced equipment and expertise, the child was operated, given new external auditory canal, new tympanic membrane and the hearing system was reconstructed by Ossiculoplasty (an operation to repair, reconstruct and improve the movement of the tiny bones of hearing in the middle ear).
The dreaded & dangerous disease from the middle ear was cleared…!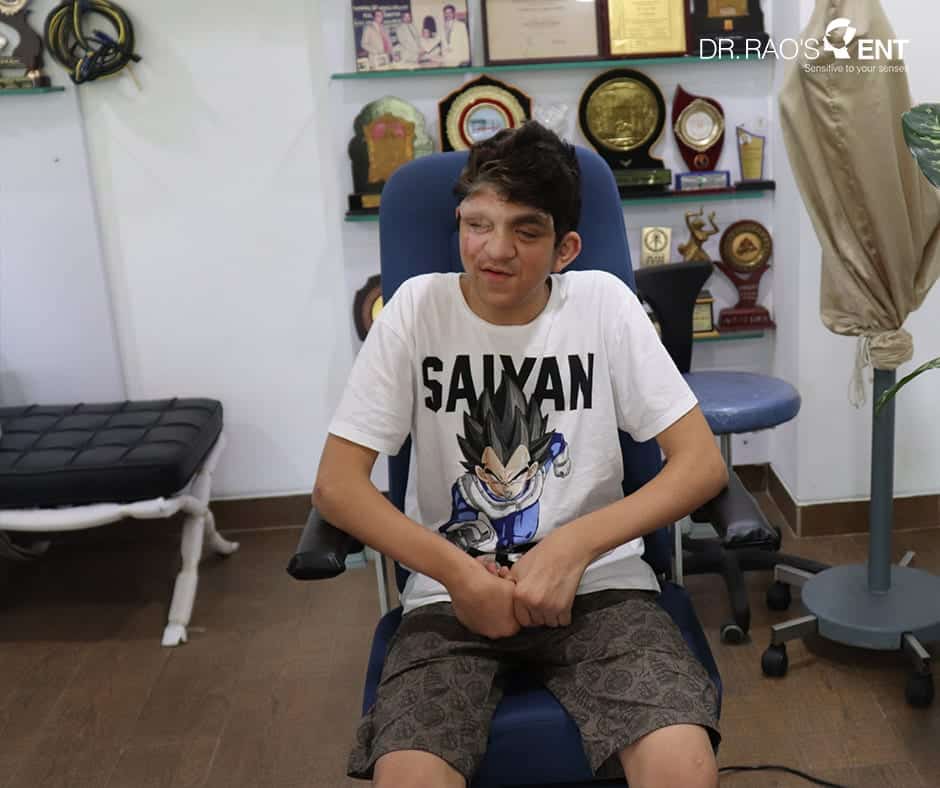 The patient stayed in the Hospital for 1 month. He left from India, with happy memories of discharge free, non-smelling and a hearing ear. The patient is having the same problem in the right ear and has been advised to come after 2 months for the other ear surgery.
Communication was a significant challenge initially, as the patient and his attender could only speak Arabic. An interpreter was arranged to address this issue.